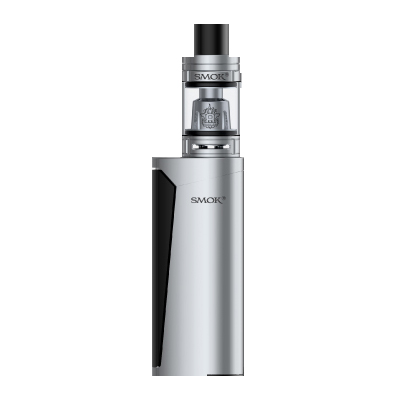 SMOK Priv V8 Starter Kit with TFV8 Baby Beast Tank
SMOK Priv V8 Starter Kit with TFV8 Baby Beast Tank
SMOK's Priv V8 kit with the Baby Beast tank is an ultra-portable bypass vaporizer. There are no controls to fiddle with, and no screen to squint your eyes at. Just a powerful single-battery mod combined with the vaping world's favourite tank. It's the sleekest vaporizer on the market.
SMOK PRIV V8 MOD
The Priv V8 is easily the thinnest single-battery mod ever created. By foregoing a screen and wattage controls, this sleek little mod is even smaller than Joyetech's Primo Mini — and that's a feat of engineering. It's compact size and shape also make it one of the most comfortable mods we've ever used.
Because the Priv V8 doesn't have a screen or any buttons to adjust your settings, it works on a permanent bypass mode. The more charged your battery is, the harder this mod will hit. And thanks to its it's smart atomizer detection technology, it will fire any tank at its correct wattage — no unnecessary buttons needed.
SMOK TFV8 BABY BEAST
SMOK's TFV8 Baby Beast has become a legend in the vaping industry. It's rare for a vaporizer tank to stay popular for more than a few months. But the Baby Beast has been a chart-topper for more than a year. And for good reason.
The TFV8 Baby Beast is one of the most consistent, well-built, and satisfying sub-ohm tanks ever created. It's easy to fill and maintain, and it produces some of the best flavour and vapour under 90 watts.
Packaged with the incredible Priv V8, you get the $35 tank virtually for free. Now that's a steal.
SMOK Priv V8 Features:
Tiny, compact design
Comfortable side-fire button
No screen or controls — simple bypass mode
60W maximum power
3.4V to 4.2V battery output
Micro-USB charging
Charging LED indicator
8-second cutoff
Low resistance protection
Short circuit protection
Overdischarge protection
Simple top-fill tank
Excellent flavour and vapour production
SMOK Priv V8 Kit Contents:
SMOK Priv 8 bypass mod
TFV8 Baby Beast Tank
Baby M2 Core 0.15 coil
Baby M2 Core 0.25 coil
Micro-USB charging cable
Manual
Warranty card
Spare parts
SMOK Priv V8 Starter Kit with TFV8 Baby Beast Tank has been discontinued
Looks like this product was discontinued, please check below for newer generations or alternative products.
Earn points for reviewing SMOK Priv V8 Starter Kit with TFV8 Baby Beast Tank
Help fellow vapers choose the best product. Your opinion goes a long way. You will receive 10 Cloud Coins after each review which can be applied on your next purchase.
Brand
1 review for
SMOK Priv V8 Starter Kit with TFV8 Baby Beast Tank
---
0 Customer(s) recommended this item
Reviewed by 01 customer(s)
Cherly

Smok has great starter kits I love it
Vape Referral Program
For each friend you invite, we will give you a $10 coupon! Your friend also gets a $10 coupon!
Your Referral URL:
https://www.vapeloft.com/shop/vape-mods/smok-priv-v8-starter-kit-with-tfv8-baby-beast-tank/
Click to copy
Related products
-5%

$

183.90

Rated 5.00 out of 5