New to vaping? Perfect we were all smokers who switched to vaping at some point in our life. The only difference is that when we were starting out, the technology was premature and the selection wasn't all that great. Fast forward to 2022 and the vaping industry has evolved at an insane rate. We've now got all kinds of vape kits like sleek and portable Pod Vapes, super convenient Disposable Vapes and cloud making Mods like the Geekvape Aegis Legend 2.
We created a simple buying guide below, so keep reading we will get into the details below.
HOW DOES A VAPE KIT WORK?
Vape Kits and mods are comprised of the device which houses a battery, a tank which is used to hold the ejuice, and a coil which heats that juice up to the point of vaporization.
Since there are different types of vape kits, we will break them into all of their categories.
These are the simplest devices that come in a large variety of flavour from various brands. They are completely disposable, non-rechargeable and non-refillable devices.
Since the ever growing popularity of the JUUL vape kit, many manufacturers are releasing their own closed and open pod systems.
Box mods are the most advanced form of vape kits, and have many features such as power adjustment and temperature control, customizable settings and much more. These devices are capable of producing massive vape clouds and deliver fantastic flavor.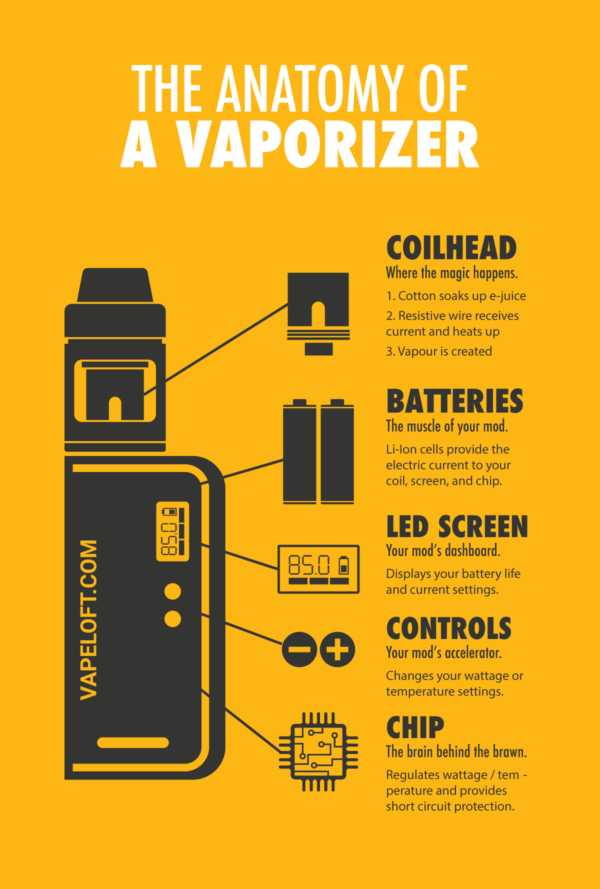 How to shop for the best vape kit?
Now that we are familiar with the basics, it's time to choose the perfect vape kit for you
Due to the simplicity of these devices, they are often the primary choice for beginners, and most of the time the right choice.
The only thing you will be doing for maintenance of these devices is replacing the coils or pods and refilling ejuice. There are usually no controls or fancy screens built into pod vape devices, the only buttons you will find on these devices is for turning on/off the device and firing.
Many of the AiO vape kits include an inhalation sensor which is activated every time you take a draw off your device, which is another reason new vapers prefer the AiO vape kit.
All in One vape kits such as Pod Vapes like the open pod system UWELL Caliburn A2 or the closed pod systems like the UWELL YEARN or STLTH both fall into the AiO category of devices. Pod vape kits is a fairly new category of vape kits that is growing at an insane rate. One of the standout features of the pod system is the ability to carry several pods with you and easily switch between flavors.
Vape Pens is another style of device which belongs to the AiO category since it's functions and features are the same. The reason this bad boy gets it's own category is the fact that it's the closest looking thing to a cigarette.
This is one is big. The category I mean, although there are plenty of big box mods like the Wismec Reauleux 300. The box mods are definitely the most advanced of the bunch, thanks to the various features:
Adjustable Wattage/Variable Wattage
Temperature Control
Removable Batteries
Built in Ohm Reader
Short Circuit Protection
LED/OLED screens (Which displays useful information like your wattage, puff counter and error messages like "atomizer low" etc.)
Touch Screens
These are just some of the features of box mods, you can read up product descriptions for specific features of each device. Due to the complexity of these devices, the box vape kits aren't always the first choice for beginners. However there are many smokers that choose to start with devices like the
Aspire Zelos X
 which is a great box mod due to it's styling, durability and performance.
If you are planning on purchasing an advanced box mod, or perhaps you may even want to dabble in rebuilding your own atomizer coils. You should always keep in mind that
battery safety is extremely important
 when getting into advanced vaping!
E-Liquid or Vape Juice is one of the most important aspects of vaping, and we have created a simple guide to help you choose the best e-liquid.
Disposable vapes gained traction in 2020 and quickly became the go to choice for smokers and seasoned vapers alike. These devices are by far the simplest of all vapes available, and usually come in a large variety of flavors to choose from. 
Disposable vapes like the GHOST, ALLO and VICE are the best choice for those that feel overwhelmed by the advanced options of more complex systems like box mods or even some pod vapes.
There is no need to change coils, pods, refill e-liquids or charge the device. Simply puff away and dispose of it when done.
You can browse through our selection of the best disposable vapes on the market over here.
Which vape kit is best for me?