Description
Aspire Zelos Nano Starter Kit is super sleek, ultra-compact and portable design from Aspire's most sought after series – The Nautilus Series.
A smaller version of the Aspire Zelos 3 Kit, made for MTL Vaping, this Zelos Nano made for MTL Vapers.
Supported by an impressively large 1600mAh internal battery, re-chargeable via Type-C fast charging.
It is designed with 3-colour LED battery indicator to keep its users aware of it's battery status.
Equipped with the intelligent ASP Chipset that is capable of auto-detective coil wattage to match power output of the mod.
Furthermore, the power wattage is adjustable with just a simple press of a button.
Included in this kit is the Aspire Nautilus Nano Tank, a mini version of the beloved Nautilus Tank Series.
Capable of up to 2mL of e-liquid capacity and conveniently designed with a top-fill for ease of use.
It is equipped with an adjustable airflow to provide its users with impressive flavor and cloud production that the Nautilus/ Zelos fanatics have always loved.
More over, the Nautilus Nano is now utilizing the all-new Aspire Nautilus 1.0ohm mesh coil providing even more of your e-liquid's natural flavor.
It is also compatible with the very popular Aspire Nautilus 1.8ohm BVC Coil.
The device wattage can be adjusted with "Low, Mid, High" levels allowing you to vape on your preferred level.
The Aspire Zelos Nano Mod is constructed with premium aluminum alloy, perfected to achieve a very sophisticated look and feel in the palm of your hands.
Check out with the Aspire Nautilus Nano Tank  and the Aspire Zelos Nano Mod individually.
A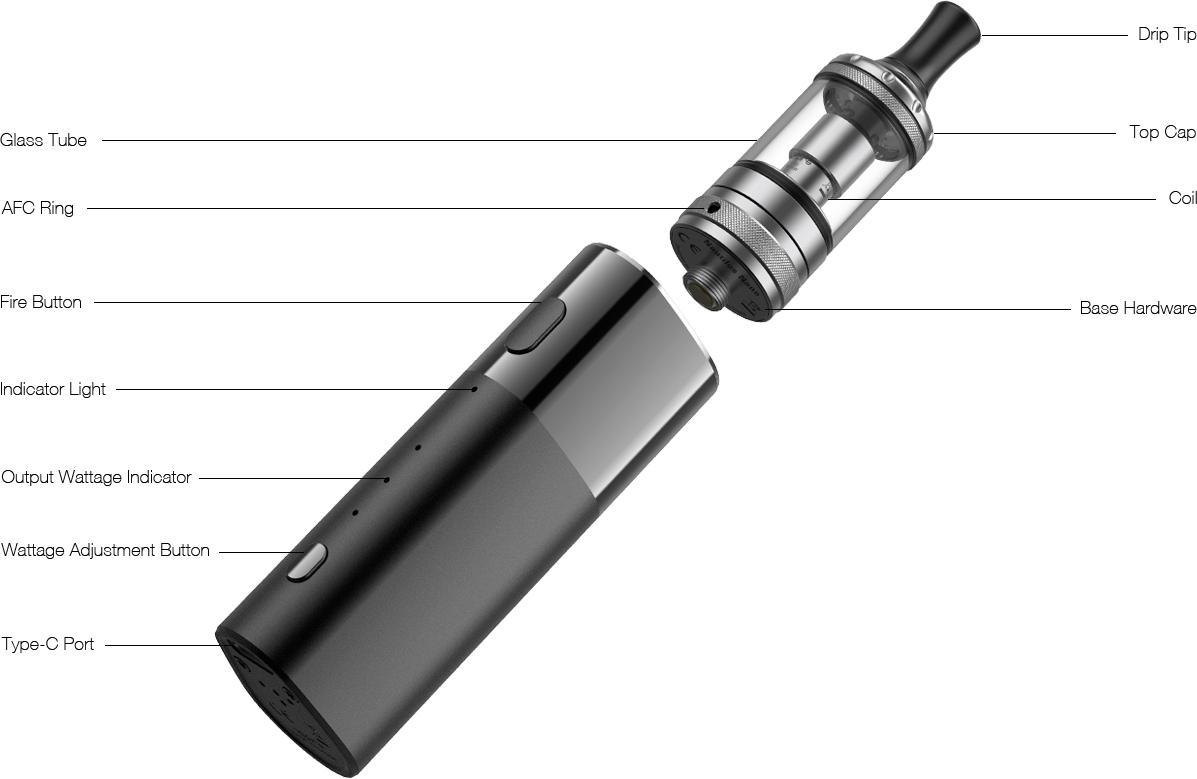 Aspire Zelos Nano Starter Kit Info:
Battery: 1600mAh Built-In
Wattage: Adjustable (3 Outputs)
Charging: Type-C Cable
Tank: Aspire Nautilus Nano Tank
Tank Capacity: 2mL
Coil: Aspire Nautilus 2 Coils
Filling: Top-fill
Airflow: Adjustable
Drip Tip: Removable
What's in the Box:
1 x Zelos Nano Mod
1 x Nautilus Nano Tank
1 x Nautilus Mesh Coil 1.0Ω (preinstalled)
1 x Nautilus BVC Coil 1.8Ω
1 x Spare Glass Tube
1 x Type-C Cable
1 x O-rings Pack
1 x User Manual