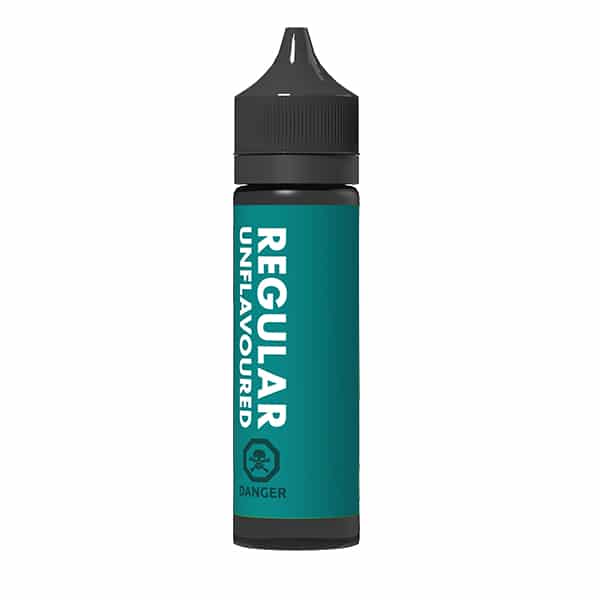 Unflavoured E-Liquid – Regular (60 mL)
Unflavoured E-Liquid – Regular (60 mL)
It's a regular unflavoured e-juice. It has pharmaceutical grade PG and VG, with the purest nicotine on the market. And that's it. Nothing else. It's like a flavoured e-juice, minus the flavour. Are you understanding this? No? Okay. Imagine the tastiest, most succulent bowl of ripe fruit, mixed with rich cream, covered in decadent dark chocolate, sprinkled with maple flakes and candied walnuts. Got that image in your head? Good. This is NOTHING like that. It's like the complete absence of all of those things. It. doesn't. have. flavour.
Good for mixing, or for vapers who hate the idea of tasting stuff.
Earn points for reviewing Unflavoured E-Liquid – Regular (60 mL)
Help fellow vapers choose the best product. Your opinion goes a long way. You will receive 10 Cloud Coins after each review which can be applied on your next purchase.
Brand
Regular Ejuice
Regular E-Juice is an e-liquid brand that focuses on single elements of a flavor, and does it really well! You won't find any complicated e-liquid mixtures of Apples and Bacon Bits here. Regular E-Juice is on a mission to craft the perfect Pineapple, the juiciest strawberry, you get the point. And the price is amazing. So try some Regular E-Juice today!

3 reviews for
Unflavoured E-Liquid – Regular (60 mL)
---
02 Customer(s) recommended this item
Reviewed by 03 customer(s)
Bridget Sage

Very clean unflavored

If you want to clean case this is it

Valerie Matheson

Maurice

Without any flavor I like it
Vape Referral Program
For each friend you invite, we will give you a $10 coupon! Your friend also gets a $10 coupon!
Your Referral URL:
https://www.vapeloft.com/shop/vape-juice/regular-unflavoured-60-ml/
Click to copy
Related products
$

34.99

Rated 5.00 out of 5