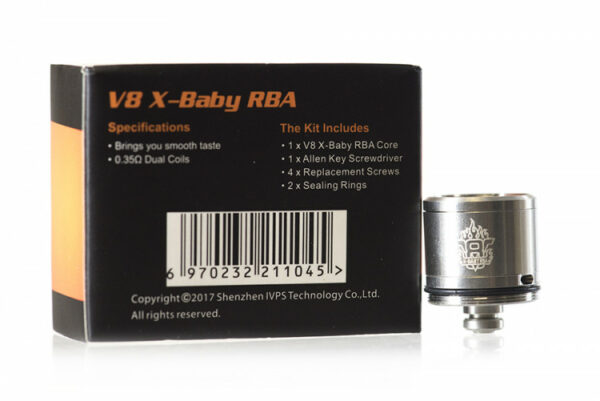 SMOK TFV8 X-Baby Brother RBA deck
SMOK TFV8 X-Baby Brother RBA deck
Turn your SMOK TFV8 X-Baby into a full-fledged RDTA with this X-Baby RBA deck. Utilizing a dual-post "velocity-style" deck, rebuilding on your favourite tank has never been easier. Includes replacement parts and pre-built 0.35 Ω dual coils.
SMOK TFV8 X-Baby Brother RBA deck has been discontinued
Looks like this product was discontinued, please check below for newer generations or alternative products.
Out of stock
Want to be notified when this product is back in stock?
Earn points for reviewing SMOK TFV8 X-Baby Brother RBA deck
Help fellow vapers choose the best product. Your opinion goes a long way. You will receive 10 Cloud Coins after each review which can be applied on your next purchase.
Additional information
| | |
| --- | --- |
| Weight | 50 g |
| Dimensions | 6 × 2.5 × 5 cm |
There are no reviews yet.